Central Heating Power Flushing ✔
Call us for a no obligation quote
✆ 0208 462 6073
✆ 0845 555 9595
Boiler Power Flushing
Gas Safe Plumbers ✔
Central Heating Power Flushing London, Brighton, Eastbourne, Folkestone, Dover, Berkshire, Essex, Middlesex, Surrey, Kent, Sussex, Bedfordshire, Hertfordshire
A Brassett has been providing Central Heating Power Flushing services for over 20 years! What is a power flush and why do central heating systems need power flushing? A Brassett have completed more than our fair share of power flushes to Central Heating systems for london residents and throughout the london area. Power flushing is simply a process that gives your central heating system a thorough internal clean and usually improves the central heating system's performance which can lead to lower gas bills, All new systems should be pre-commission cleansed in accordance with BS:7593 and Benchmark. This ensures flux residues, excess jointing compounds, mineral oil and other contaminants that can be found in the system following installation, and that can effect the performance of the system or cause component failure, are removed. It is important when installing new boilers into old systems that all sludge is first removed from the system or this could accumulate in the new boiler and lead to premature failure. Additionally, in hard water areas existing systems will have accumulated limescale together with corrosion deposits in the heat exchanger, which could easily have reduced the boiler efficiency by over 5%. Power flushing is the most efficient and effective method of cleansing a central heating system. The principle is to create a powerful fresh water flow under controlled conditions to remove debris from the system. By connecting the power flushing unit to the heating circuit in place of the system pump, boiler or radiator the circuit can be thoroughly cleansed of limescale and corrosion debris. When used in conjunction with a Fernox cleanser a typical power flush can be completed in 3-4 hours. We offer an in home service network, housing associtaions, letting agencies and private landlords, We do our level best to get an engineer to you within 48 hours of your call, For the most up to date engineer availability information call our repairs helpline on 0845 555 9595, Our service team call to your home and we offer a service from 7.30am to 9.30am first call, we offer 8am to 2pm and 12pm to 4pm and undertake the repair in a professional manner and to your satisfaction.
The diagram below shows a typical heating system and problem areas. With modern boilers particularly now with the advent of high efficiency boilers there is a need to ensure your system is clean before installation and treated with inhibiter when commissioning. There is an approved standard required by all manufacturers known as Benchmark to which installation must be carried out to ensure your manufacturers guarantee is valid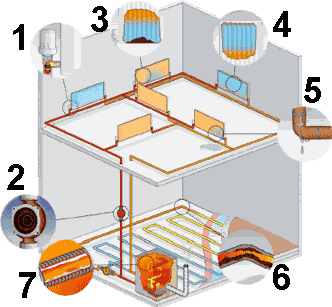 ✔ Blockage in radiator valve Leading to incorrect operation of valve, no flow in radiator.
✔ Pump seizure and failure The abrasive and magnetic properties of black oxide sludge increase shaft and bearing wear in pumps causing them to stick or fail.
✔ Cold spots The familiar cool low central area of a radiator indicates a build-up of black sludge. sediment that restricts flow and reduces heat.
✔ When the top of a radiator is cold during operation, either air or hydrogen is to blame. Hydrogen gas builds up as a by-product of electrolytic corrosion and is flammable (due caution is required).
✔ Pinhole leak Water damage.
✔ Black sludge in underfloor pipework Reduced flow or blockage in pipework.
✔Scale (limescale/iron oxides) in boiler Leading to reduced efficiency, increased emissions, higher fuel bills and boiler noise.
Plumbing
Gas Safe Plumbers For Domestic Plumbing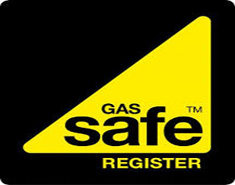 Gas Bolers ✓ Electric Boiler ✓
A Brassett's boiler and heating gas safe engineers can handle all sorts of scheduled or emergency heating repairs.
Testimonials
Read customer reviews from A Brassett
Fantastic! One of the burners on my Neff hob had gone, I was able to buy the replacement part, A Brassett then came and fitted it. Really quick, lovely knowledgeable engineer. Knew exactly what to do, clean quick and efficient. Such a nice man - made me feel like I had definitely made the right choice. They were very helpful on the phone about what needed to be done, as well as when I called to book the appointment. Gave a reasonable time slot - and were able to accommodate school drop off etc. Fantastic I am delighted.

Oven broke New Years Day. Contacted A Brassett for help. Engineer called exactly when he said he would. Very helpful. Very professional. Everything they said they would do they have. Would recommend to friends. Will be my first call if I need help again. Were very knowledgable on product. The repair is expensive but not A Brassetts fault. That is mine for buying the appliance I did.

Service engineer arrived on the day arranged and early.The saniflo toilet macerator was quickly serviced the fault diagnosed and corrected.Further care instructions given by a clean efficient and cheerful operator.

Door seal needed replacing. Contacted A Brassett via mobile app on website - replied very quickly. Date was set. Text message sent one day before the appointment as a reminder. Engineer turned up on the day agreed and changed the door seal quickly and efficiently. Neat and tidy job. No reported probs to date. Considerably cheaper than Miele engineers - would recommend and trust to perform work on washing machine again.